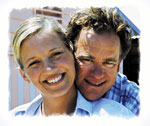 Adult and Pediatric Urology Group, P.A., is a practice that offers the most current diagnostic and treatment options to patients of any age. They offer specialties in many different areas within the urology field which include the following:
ADULT UROLOGY
PEDIATRIC UROLOGY
OTHER CONDITIONS TREATED
[

back to top

]
---
Prostate cancer is the most common cancer in men. Since early prostate cancer does not cause symptoms, if you are 50 or older, you should be screened each year. For those diagnosed with prostate cancer, we offer the most advanced therapies: hormonal, seeds/radiation, nerve sparing radical, laparoscopic and robotic prostatectomy.
More on prostate cancer.
Treatments for all Your Prostate Problems
Know the symptoms of prostate trouble:
Weak or interrupted flow of urine
Urination that wakes you at night
Having to urinate often
Still feeling the urge to go, even after you've urinated
If you suffer from any of these symptoms, call us. We have the experience to diagnose prostate trouble early, when it's easiest to treat. Often, the answer is medication. Other times, office procedures such as microwave therapy are needed. You can feel confident that we'll help in the way most appropriate for you.
More on benign prostatic hyperplasia (BPH).
More on prostatitis.
[

back to top

]
Kidney and Bladder Cancer Care
Every physician in our practice has a personal interest and a good deal of specialized training in urologic oncology (study of tumors/cancers). We were the first practice in the area to offer bladder replacement surgery and laparoscopy. We use advanced techniques such as renal cryotherapy, laparoscopy and partial nephrectomy to treat kidney tumors. Ask one of our doctors if one of these leading-edge procedures is right for you.
More on bladder cancer.
More on kidney cancer.
Help for Incontinence/Weak Bladders
If you have trouble controlling your bladder, especially when you laugh, sneeze or lift something heavy, you are suffering from urinary incontinence. And you're not alone. More than 13 million Americans share your problem.
Bladder control problems are most common in women, especially moms and older women. We have the expertise and technology to correct urinary leakages. These include in-office urodynamic testing and nonsurgical treatments such as pelvic floor rehabilitation, bladder training and medications.
Surgical solutions include transurethral bulking, outpatient bladder suspension (TVT), vaginal sling suspension, artificial sphincters and bladder pacemakers. Bottom line: Urinary incontinence is a widespread ? but not widely discussed ? health problem for many women and men. We can help.
More on urinary incontinence.
[

back to top

]
Fertility Control (Vasectomy and Vasectomy Reversals)
Whether you are interested in the most effective method for male birth control, a no-scalpel vasectomy, or you want to start a new family and need a vasectomy reversal, we can help. We do vasectomies in the office in about 20 minutes with very little discomfort.
More on vasectomy, including no-scalpel
More on vasectomy reversal.
Prevention and Treatment of Kidney Stones
Did you know that up to 85% of all kidney stones result from not drinking enough water? Kidney stones are serious business and require immediate attention. They may start as a minor discomfort in the kidney area but can soon develop into a very painful condition. But there are ways to prevent this problem. If kidney stones are discovered early, they can often be treated easily, without major surgery.
There are a number of ways to treat kidney stones. Let one of our doctors help you choose the best method for you.
Shockwave lithotripsy (ESWL)
Scope extraction (ureteroscopy) with holmium laser
Mini-incision removal (percutaneous nephrolithotomy)
Nearly half of all kidney stones come back within five years, but proper care and regular checkups can prevent further episodes. Remember, it's important to drink lots of water and catch kidney stones early, so call us at the first sign of trouble.
More on kidney stones.
[

back to top

]
World-Class Leading-Edge Pediatric Urology
Children suffer from as many urologic problems as adults. They can have congenital abnormalities such as undescended testes in male children, hydronephrosis (a "stretching" or dilation of the collecting part of the kidney, often the result of a blockage in the ureter), renal obstruction or reflux disease.
Our board-certified, fellowship-trained pediatric urologist has the specialized training, skill and experience to help your child with virtually any urologic condition. Ask your primary-care doctor to refer your child to us and take comfort in the fact that your child will receive world-class care.
More on pediatric urology.
[

back to top

]